INTRODUCING : The Avowed Best Ever Music TextBooks for Schools
Why You Should Choose The Books
By the Author :Daniel A. Jacobs
The books use a standard, objective base on complete music education course for breeding children in music, it combine the Western Standard (British – American) and rich African fill with the Nigerian Syllabus. The books are the perfect tutor for ABRSM, Trinity and other international examination certificate which children from many international schools in Nigeria write yearly. (Third Edition)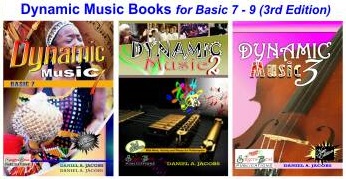 Exceptionally, it is not just concerned with writing/passing examinations: it brings music to life for pupils/students with the following content:
Reading/writing music (theory and practical) work and activity
Practical lessons in voice and instruments.
Music piece for performance songs (singing) and playing on instruments, "But this songs are so beautiful" said a music teacher
Poems, Rhymes and musical games.
Audio cd of songs in the book (In staff notation) for activity and children learning.(Music Alive)
Well guided work and activity that involved the children in the whole learning process. Result are quick and sterling
Active and classic color layouts with illustrative pictures (Music Alive)
"These books should go beyond the shores of African countries, let the white man see what the black man is capable of doing"
If these books are not the best music book I have ever seen in this country, it should be one of the three leading one.
With it I teach music more effectively and pupils' response are quick and very impressive.